The Raise-Op, a local housing organization led by its residents, broke ground on two new buildings today. Consisting of 9 units each, these developments will infill vacant lots in the Tree Street Neighborhood at 198 Blake Street and 84 Walnut Street.
The development is the result of an investment partnership between the Raise-Op and Evernorth, a regional syndicator of affordable housing, with financing from MaineHousing.  Lewiston Housing will provide property management services, and Raise-Op staff will provide the resident services.
These two buildings represent many groundbreaking achievements for Lewiston and the partners involved:
These will be the first passive-house certified buildings in Lewiston, a rigorous design standard for building operation regarding energy efficiency and air quality, the result of which is an extremely comfortable and healthy living environment for the residents, and a lower carbon footprint as the building demands less energy consumption.

The first time that low-income residents of the Tree Street Neighborhood have programmed and designed new multi-unit apartment buildings from the very beginning of the design process.  A process that served as a model for the City's Choice Neighborhood Transformation Plan.

The first open-source building design that will be shared with the City of Lewiston for the purposes of helping create more small-scale infill housing in the neighborhood that meets the goals of the Choice Neighborhood Transformation Plan.  The design is meant to be easily adapted to any standard lot in the neighborhood.

The first time a housing cooperative in Maine has served as the developer of housing that utilizes the Low Income Housing Tax Credit program as a financing mechanism.  Given the complexity of LIHTC financing, and the unique nature of a housing cooperative, this has been a learning experience for all parties involved.
The Raise-Op acquired the lots at 198 Blake Street in 2018 with financing support from Community Concepts, and with a grant from Healthy Neighborhoods installed community artwork and facilities to make a small dog park.  Raise-Op's long term vision for the space was permanently affordable housing that would meet the needs of residents in the way that existing buildings cannot achieve due to their age and design.  This included physical accessibility, air quality, energy efficiency, and more privacy for residents in their homes so that people of different lifestyles and cultures can live next door to each other with less conflict.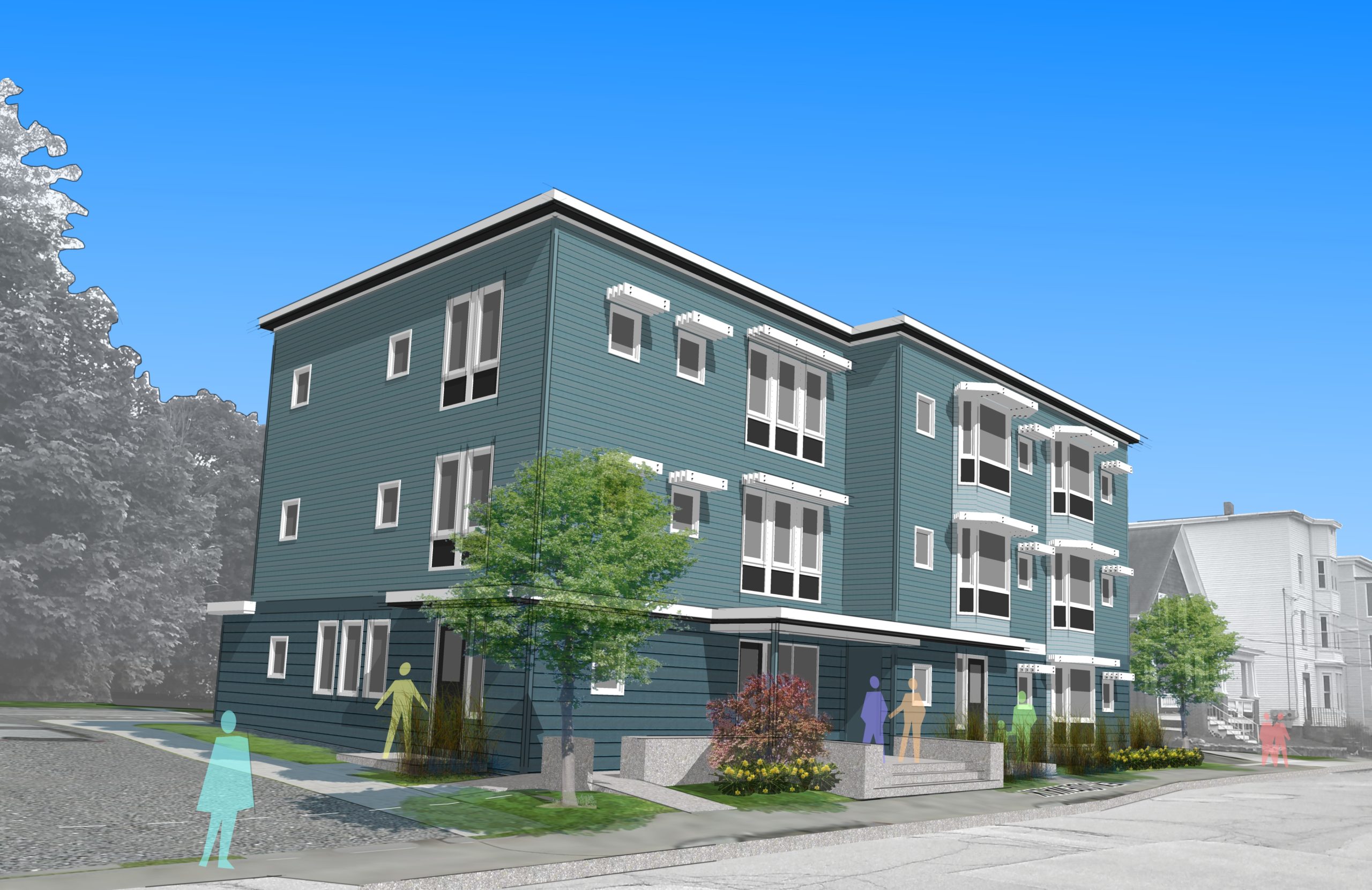 Since its founding in 2008, the Raise-Op has strived to create homes for residents where they have the opportunity to know their neighbor and work together to create opportunity and positive change in their community.  The Raise-Op currently owns 3 apartment buildings, containing 15 affordable homes for its 50 residents, who meet on a regular basis to discuss the budget and other issues that affect their buildings and the neighborhood.  Raise-Op played a critical leadership role in the City's Choice Neighborhood Transformation Plan, outreaching to residents to have a voice in the Transformation Plan in every step of the process.
Seeking to double the size of the development – and also test the adaptability of their design – the Raise-Op purchased additional land from the City of Lewiston and applied for MaineHousing's 4% Tax Credit program.  Matt Peters, a development consultant, has provided support to Raise-Op throughout the development process.
The 18 units of new housing will include one-, two-, and four-bedroom apartments, and will be available to rent for families who earn 60% or less of Area Median Income.  Each unit will provide heating and cooling, air ventilation, dishwasher, and electricity included in the rent.  The four-bedroom apartments will feature two full bathrooms each.  First-floor apartments will be physically accessible, including ramps and accessible parking spaces.  The building at 84 Walnut will provide office and community room space to residents of both properties.  Residents provided feedback on all aspects of the design, down to details of kitchen layout relative to the living room, so that parents in the kitchen can keep kids away from the stove but also keep an eye on them in the living room.
Raise-Op will provide resident services, including facilitation of House Committee meetings, where residents will meet together to learn about the building's budget, operations, and discuss issues of interest to them.  Residents can also serve on the Board of the Raise-Op.  "An important difference from previous Raise-Op buildings is that residents of Blake & Walnut will be tenants, not cooperative owners.  This is a requirement of the Tax Credit program.  So, this experience for residents at Blake & Walnut will be different from our other properties.  But we still think these will be great homes and that the resident services provided by Raise-Op will help to make residents feel empowered and included in the process," said Craig Saddlemire, Development Organizer for the Raise-Op.
"In our economic and business development work, it has become clear that a lack of housing is one of the biggest limiting factors of economic growth. We are excited to see these much needed additions to the local inventory, and to see the partnerships that made it possible."
– Shanna Cox, LA Metro Chamber President + CEO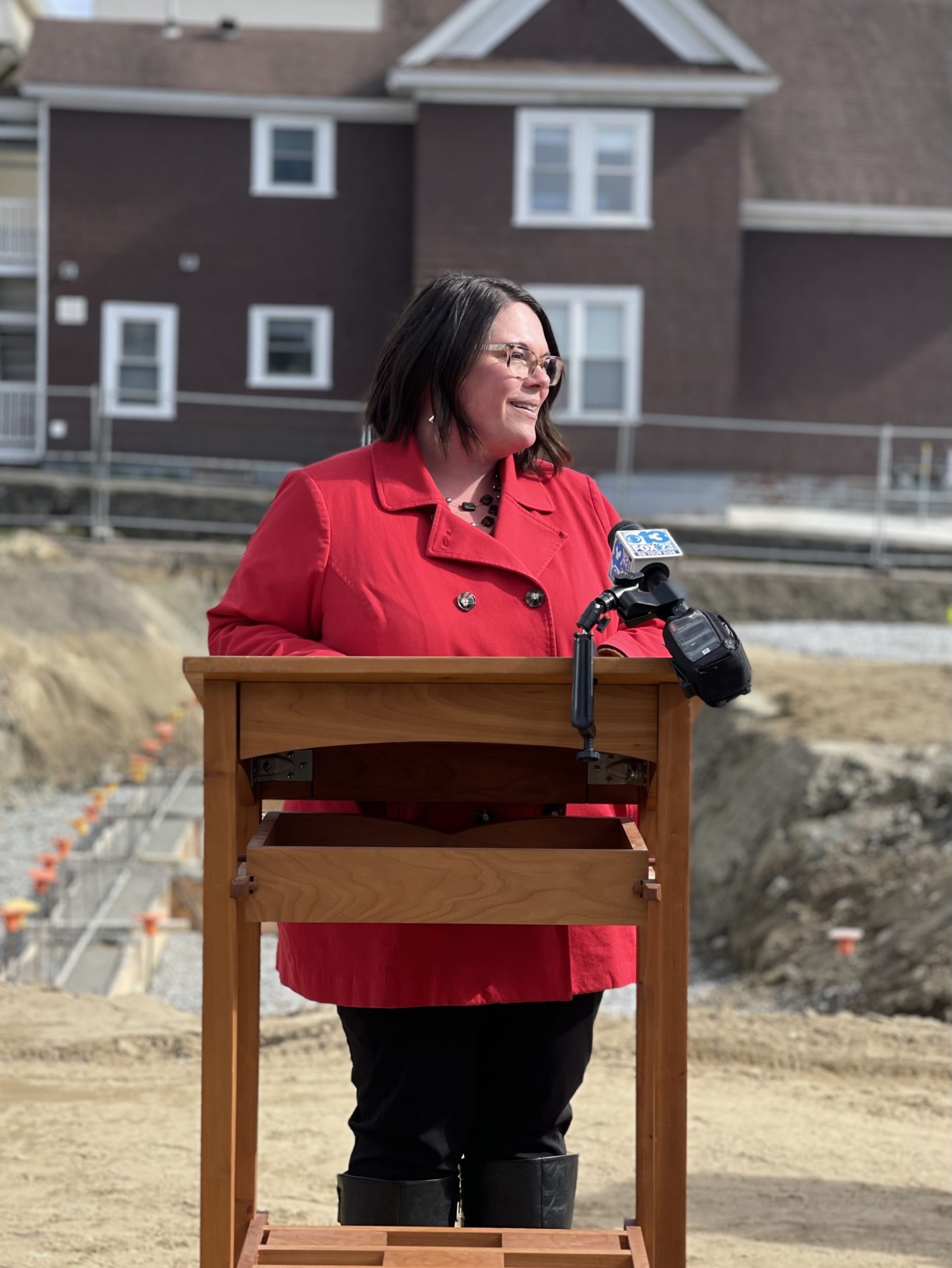 "Blake & Walnut is going to help address housing issues for tenants who are struggling to get an apartment.  It will help to unite neighbors, and help people to afford their homes.  These buildings will offer 4 bedroom apartments, each with 2 bathrooms, which is very important to help large families have some privacy.  I've never seen an apartment like that before in my life. It will be very helpful.  It will make a huge difference in the life of these families.  In other rental buildings, tenants who live next to each other, they never talk, they never know each other. We hope other landlords learn from what we do.  In Maine, many landlords make it hard for their tenants to communicate or learn, and they live in fear. In Raise-Op, tenants get to know each other. They meet regularly and plan things together.  They learn from each other.  This is also a good example for younger generations, to learn how they can communicate, participate in meetings, and address concerns together.  As a group, as a team, as a community.  There's a proverb that says 'One finger cannot wash a face, it takes five fingers to wash a face.'  One person cannot act alone.  If we work together, we can all succeed."  
– Hilowle Aden, Resident and Board Director of the Raise-Op
"I am thrilled to see the Blake and Walnut buildings start to rise in this neighborhood, which is rich in history and tradition. The buildings carry the grit and cooperative spirit that is Lewiston. 
The start of construction is a validating and inspiring moment for all of the residents of Raise-Op who took part in our planning and design process, so that their neighbors could have new affordable and healthy homes.  We believe the inclusion of people most impacted by the housing crisis – in the development of these and future projects – is crucial to making homes that are truly responsive to people's needs and desires, and will make for more meaningful social change in our community.
These buildings are not just units of housing, they are homes, and they represent a resolve to end housing instability in Lewiston, and promote community building.  We are grateful for the relationships we have developed through this process, beginning with our residents, and including the designers, engineers, builders, lenders, investors, consultants, housing authorities, and public sector workers who all helped to make this possible."
-Shaad Masood, President of Raise-Op
Project Partners Include: 
Raise-Op, Developer, Project Sponsor, Resident Services
Evernorth, Syndicator
MaineHousing, Financing
Hebert Construction, Construction Manager
Bild Architecture, Design
Lewiston Housing, Property Manager
Community Concepts Inc.
City of Lewiston