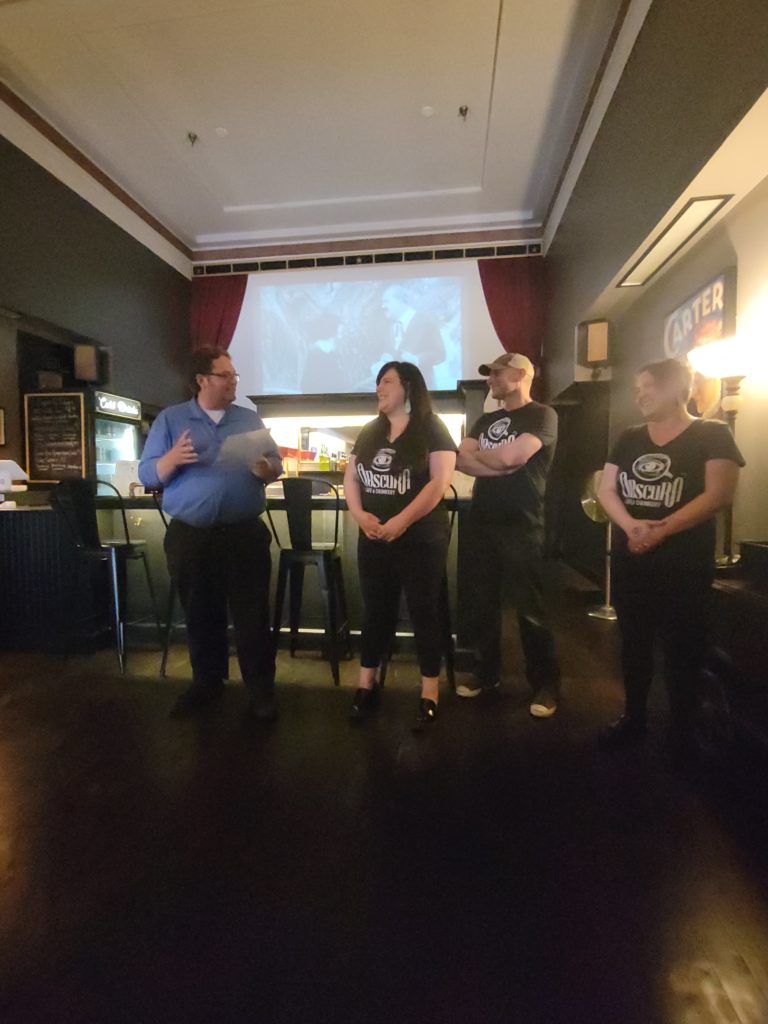 A ribbon cutting ceremony was held for the opening of Obscura Cafè & Drinkery in Lewiston on Thursday, August 4, 2022. Lewiston Mayor Carl Sheline was joined by John Rice, Director of Operations at Schooner Estate Senior Living Center and Board Chair of the Board for LA Metro Chamber, Senator Susan Collin's Office Representative Carlene Trembly, Congressman Jared Golden's Office District Representative Katherine Drummond, Maine State Representative Kristen Cloutier, Ward 3 Lewiston City Councilor Scott Harriman, Ward 2 Lewiston City Councilor Robert McCarthy, and members of the public. 
Obscura Cafè & Drinkery is a 1920's reminiscent eatery, drinkery, and entertainment venue that aims to bring an all inclusive experience to Downtown Lewiston's Arts District.
"The decor and ambiance are amazing. Between the large projection screen and speakeasy style lounge and period posters, you are transported into a different place and time.  I am so pleased to be at another celebration of growth and entrepreneurship within our community," said Mayor Sheline.
Serving an American style menu of paninis, salads, flatbreads, specialty waffles and charcuterie, Obscura provides a creative menu that is also accessible for guests with gluten sensitivity and vegan diets. The bar features a large selection of craft beers, canned cocktails, and wine. The space boasts a large projection theater screen above the bar that shows silent films and speakeasy style lounge downstairs for performances and events that will be opening soon. You can learn more at ObscuraMaine.com. 
"We've always had the vision to give the iconic Lamey-Wellehan building a second life while preserving the history of the space and of the Wellehan family legacy. With the full support and belief of Jim Wellehan, we made that happen", said co-owner and Lewiston native, Corey DuFour. 
"As a company that is owned and operated by several artists, we wanted to create a space that creatives could gather and be represented. From fine artists, to musicians, artisans and other performers of the arts, we will have opportunities to hold events and displays that will showcase the talents of our local art community', said co-owner and local artist, Angie Lafrance.