AUBURN, ME — A ribbon cutting ceremony was held for the new Maine Dentistry location at 34 Center Street in Auburn at 12:00 PM on Monday, August 16. The City of Auburn Director of Economic Development Jay Brenchick was joined by the President + CEO of the LA Metro Chamber Shanna Cox, LA Metro Board Chair and CEO of Lucro Management Jessica Donovan, Karen Staples of Senator Susan Collins' Office, and members of the public. Maine Dentistry opened its Auburn location earlier this month, making it the third Maine Dentistry location in Maine.
Led by Dr. Ben Lawlor, named one of America's top dentists, the Maine Dentistry Auburn team has the experience and insight to provide you with the smile you deserve.
"My parents are from Auburn, so Auburn is like home for us. As a dental practice, our vision is to do dentistry differently, and our mission is to bring positive change to the community. Part of that mission includes volunteering in our local community, and our team has donated time to the Good Shepherd Food Bank as part of that work," said Dr. Lawlor.
At Maine Dentistry, you can count on a unique dental experience from a welcoming team of experienced providers. Their environment is a no-judgment take on dentistry and fosters an easygoing atmosphere for all of their patients. Whether you're visiting for a simple cleaning, ongoing issues, or emergency care, the team at Maine Dentistry will ensure you feel safe and comfortable.
"It is wonderful that you chose to open your third location here in Auburn – we could not be more thrilled to welcome you to our region! Our sincere thanks goes out to you for building and organizing your training program, investing in your staff, and investing in Auburn.  Your space here is gorgeous, and your team could not be more friendly and welcoming," said Shanna Cox, President + CEO of the LA Metro Chamber.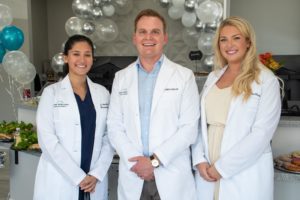 "We are very appreciative of the investment you made in Auburn, and are so impressed with the training that you are conducting at your new office space," remarked Jay Brenchick, Director of Economic Development for the City of Auburn.
Maine Dentistry is dedicated to utilizing state of the art technology and equipment for patient care. They specialize in a multitude of cosmetic dentistry offerings along with dental implants, minimal prep veneers, same-day crowns, Invisalign clear aligners and more. The team at Maine Dentistry believes in the importance of treating the entire head and neck health of their patients – and it is because of this belief that their practitioners provide options such as Myobrace for treating breathing issues, shortness of breath, and sleep apnea.
"Auburn is such a tight-knit community and hosts its own identity which will reflect in our patients. While we love to treat families at our practice, we are expecting to truly serve the community as a whole and expect the patient base to reflect that diversity. No matter who you are you should have access to the best in dental care and feel right at home the entire time. That is what we're bringing to our future Auburn patients." said Alexander Prevey, Maine Dentistry Marketing Director.