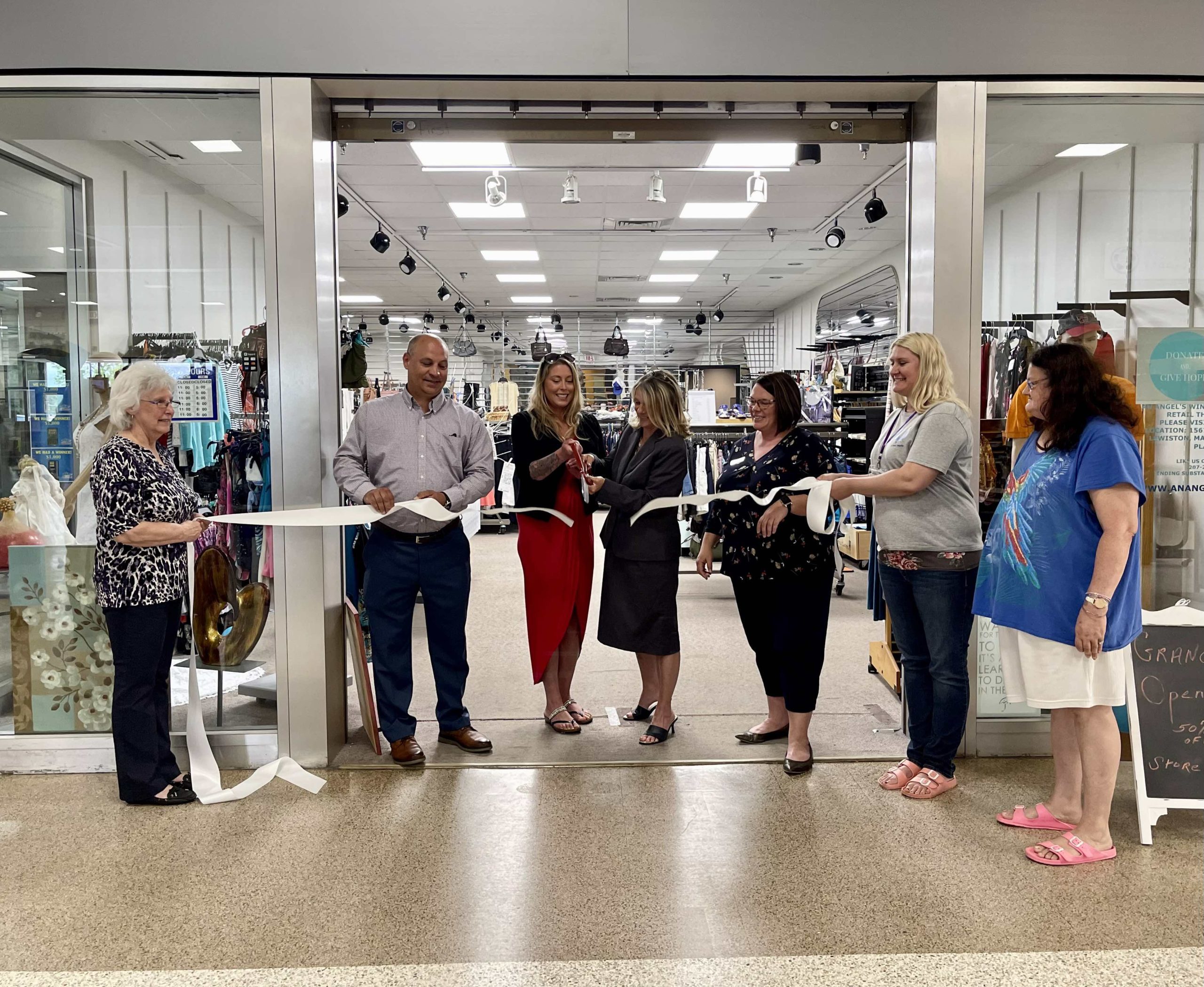 A ribbon cutting ceremony was held for the opening of An Angel's Wing second location in the Auburn Mall on Wednesday, June 1, 2022. Auburn Mayor Jason Levesque was joined by President + CEO of the LA Metro Chamber Shanna Cox, and members of the public. 
"We are so excited to be here celebrating the opening of An Angel's Wing second location today. I fully support their cause – I have seen the work that it does for recovery, and the way that impacts our workforce and employers," remarked Shanna Cox. "Their products are great, and you can feel good shopping here, knowing that the dollars you spend are helping people right here in LA". 
An Angel's Wings mission is to ensure each individual has the opportunity to live, learn, and recover from substance use disorder – and they will do whatever it takes to get people into recovery and stay in recovery.
"There is no one in our community, in the state, or in the country who hasn't been affected by tragedy; especially tragedy that can be prevented and remediated. We thank you Debra for your work supporting those battling substance use disorder and supporting their recovery," said Mayor Levesque.
An Angel's Wing is a non-profit organization and thrift store that sells new and used clothing, accessories, furniture, and household items. All of the proceeds from sales at its two locations go toward funding the fight against substance use disorder and offering support to people in recovery. The organization also operates an addiction resource center, including locating treatment and covering those costs, setting up furnished sober living homes, and supplying clothing and other items needed for individuals at no cost.
"We have partnered with St. Mary's, Blue Sky Counseling, Avalon Counseling, and Tri-County Mental Health to open Androscoggin's first community non-profit detoxification unit," announced Executive Director Debra York. "Finding a bed at a detoxification center is near to impossible in the state of Maine. We have spent hours on the phone trying to locate a bed for one individual who was ready for treatment, but there wasn't one available. With this new venture we will open up so many possibilities for those who are in search of treatment."