A ribbon-cutting ceremony was held for the new Holy Donut location in Auburn on Tuesday, April 20. Auburn Mayor Jason J. Levesque was joined by the City of Auburn Director of Business & Community Development Glen Holmes, LA Metro Chamber President + CEO Shanna Cox, LA Metro Chamber Board Chair-elect John Rice of Schooner Estates, Senator Susan Collins' representative, and members of the public.
"Having the opportunity to set up a location for The Holy Donut, a company I love working for, in a community like Auburn and Lewiston, which I love being in, hasn't just been exciting and fun, it's really been an honor.  Spreading the joy of donuts to a new area is always going to be great, but getting to know the people in Auburn/Lewiston has made it special," says Tim Benhoff, General Manager.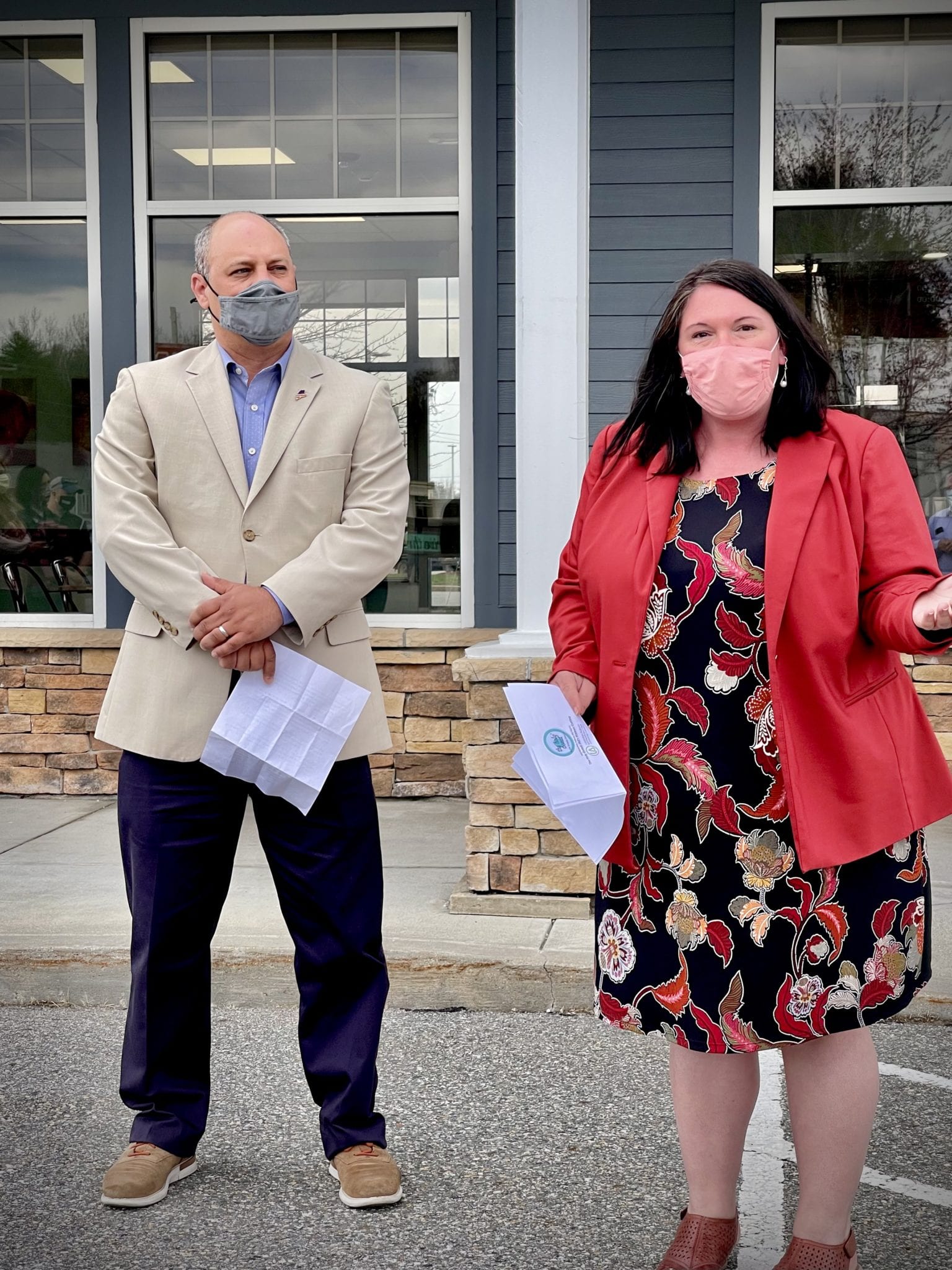 The Holy Donut is a locally owned company founded on the premise that when you use the best quality ingredients you can find, you can feel good about having a wholesome treat.  They make their donuts from scratch, by hand, every day, in each of their stores using real Maine potatoes – and they pride themselves on providing an inclusive, clean and welcoming environment for their guests and teammates. The Holy Donut opened its Auburn location in January this year, making it the third location in Maine, and the first outside of the greater Portland area. 
"Today not only symbolizes our community's desire to be resilient but its desire to recover and thrive past recovery," said Mayor Levesque, "The Holy Donut is a great addition to our community and I know they have made thousands and thousands of people in Auburn very happy.  We wish the Holy Donut team a bright, sweet, and flavorful future here on Minot Ave."
The Holy Donut team began looking at Auburn about a year ago, and were excited to see the number of approved residential and commercial building permits, indicating growth in Auburn.  "We felt Auburn would be a good landing spot for us and that the area was ready for our product.  We loved the old Tim Hortons location on Minot Avenue and knew we could retrofit it as we did with our location in Scarborough," said Jeff Buckwalter, CEO/Co-Owner.
"No matter how delicious our donuts are, it's our staff that keeps customers coming back. We have been so lucky to find such exceptional people from the greater Lewiston/Auburn area to represent us here at The Holy Donut," said Ally Emmons, Assistant General Manager.
Whether you are looking for a sweet treat, a savory splurge, a caffeine kick, or a friendly face, the Holy Donut in Auburn has you covered.  Every day their team strives to uphold the values and the spirit on which The Holy Donut was founded – by delivering a one of a kind, wholesome treat in a welcoming, inclusive environment while being thoughtful, kind and positive to their customers and to each other.
"The Holy Donut management and ownership team have become active in the Chamber and our local business community. They clearly care about the communities they serve, and we are proud to be here today and support their business on its journey in the region" said Shanna Cox, President + CEO of LA Metro Chamber.