AUBURN, ME — A ribbon cutting ceremony was held for the new Evergreen Subaru location in Auburn at 1:00 PM on Friday, August 13. Auburn Mayor Jason J. Levesque was joined by the City of Auburn Director of Economic Development Jay Brenchick, President + CEO of the LA Metro Chamber Shanna Cox, Gregory Dufour, President & CEO of Camden National Bank, with strong representation from Camden National Bank, Subaru of New England, and the City of Auburn. Evergreen Subaru will be opening its new expanded location to the public on August 23, 2021, relocating from its original space on Center Street in Auburn.
"Evergreen Subaru's growth over the past 15 years made it challenging to provide the kind of customer experience we strive for in our original building. Our brand new, 41,000 square foot state-of-the-art dealership offers the most convenient and comfortable experience possible. We are so excited to share this space with our customers, our team, and our community." said Doug Weisz, Managing Owner.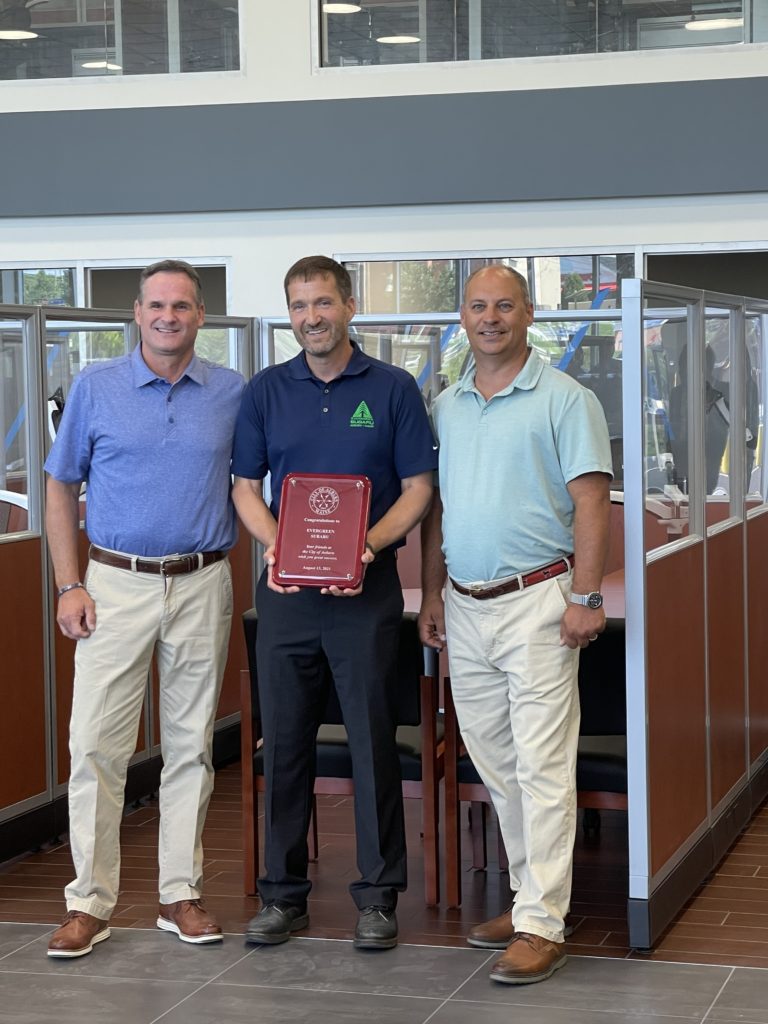 Founded in 2006, Evergreen Subaru sells and services new Subarus and sells pre-owned Subarus and off-brand models. Their dealership has a deep commitment to building trusted and lasting relationships with their customers and community. Evergreen Subaru purchased the prior Best Buy building with a vision of a space designed for convenience, comfort, and efficiency, which will triple their team's capacity to sell and service cars.
"Your investment in your business, employees, community, and in this location is so appreciated because you see the outstanding potential of this region. You could have built in almost any space, but you took existing infrastructure and revitalized it in such a smart and creative way," said Shanna Cox, LA Metro Chamber President + CEO.
"Your building is a reinvestment in Auburn, and you are not just offering a place to buy or service a car, but you are also creating a community within your walls.  Because of your background in marketing, you have touched on all areas of business, and your journey to becoming a business owner is an inspiration to entrepreneurs.  Congratulations on the success. Watching the metamorphosis of this building has been amazing to see," remarked Auburn Mayor Levesque.