8 Strategies for Aspiring Leaders, LA Metro Chamber Premier Speaker Series, August 19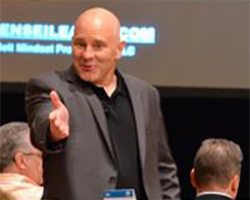 On Friday, August 19 from 8am to Noon, the LA Metro Chamber will host 8 Strategies for Aspiring Leaders as part of their premier speaker series. The seminar will be held at the Hilton Garden Inn Auburn Riverwatch, 14 Great Falls Plaza, Auburn.
This seminar addresses the challenges you face as a new or emerging leader. You'll leave with actionable strategies and tactics you can put into practice in your business or company culture – today. This is not a lecture!  You're part of an engaging conversation — complete with group exercises to help you develop Character Disciplined Leadership at ALL levels, independent of title or position!
Perfect for:
Aspiring leaders within an organization
Recent college graduates
Leadership development candidates
Professionals transitioning to a new leadership role
New Entrepreneurs / Business Owners
Your session includes:
The SL 15: online questionnaire identifying leadership challenges and goals prior to the event. Findings will become part of your group discussion
Your copy of "8 Strategies For Aspiring Leaders"
Your personal Sensei Leader workbook
Complimentary access to our online program
BONUS: Signed copy of the Sensei Leader included — limited to the first 50 registrations!
Presenter: Jim Bouchard of Black Belt Mindset Productions, LLC. "I'm a former drug addict and two time college dropout. I used to think that was a miserable resume for someone who trains leaders to be better people. I now know that it is the perfect resume.  Leaders are made, not born.  I'll go a little further, leaders are transformed. Leaders are people who transform themselves through their experiences, opportunities and challenges to become the people others count on for inspiration, guidance and action. I transformed myself from a loser to a leader––from a drug abuser to a Black Belt, and later to Sensei. Over 25 years of teaching I helped hundreds of others transform themselves into Black Belts, and thousands more discover their best selves."
Jim's keynotes, workshops and seminars help you build and maintain a strong culture of "character disciplined leadership," the foundation of organizational success. He is an internationally recognized business speaker, trainer and author of The Sensei Leader and Think Like a Black Belt.
"The Sensei Leader was a home run! (Jim's) presentation was outstanding and we couldn't be happier."
Download the flyer to print and share!
Reserve your seat today! Price is $149 for LA Metro Chamber members and $249 for non members. Registration is available at www.LAMetroChamber.com. For questions, call 207-783-2249.